Founding Partners
Brasilia
Canberra
Ottawa
Washington, DC
Brasilia, Brazil
National Symbol of Development
Brasilia was specifically planned to be a political capital and it was inaugurated in 1960 in a sparsely inhabited region located in the centre of the country. The construction of the city took only 1,296 days, within the deadline set by President Juscelino Kubitschek, who committed himself wholeheartedly to this project. Brasilia's creators felt that the city should be more than an administrative centre, and that it should figure also as a national development target and a symbol of the industrialisation process.

Pilot Plan
World Heritage

Lucio Costa's plan for Brasilia—known as the Pilot Plan—and the modern architecture of Oscar Niemeyer combine to create a landmark city with a unique urban organization and livelihood. The city's design conforms to the interaction of four scales:

the Monumental, which concentrates on the main public buildings;
the Residential, which contains superblock buildings resting on massive pillars;
the Gregarian, allocating social areas for entertainment and commerce, and:
the Bucolic, comprising the green area next to the buildings and the lake.


Recognizing the principles of urbanism and the historical importance of Brasilia, UNESCO inscribed the city on its World Heritage list in 1987. It is also protected by federal and local legislation.

Brasilia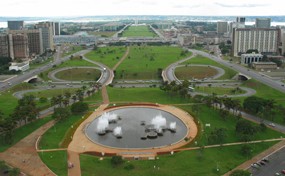 Third Largest City in Brazil

Brasília is one of the largest metropolises in Brazil, with a population of 2.5 million people and the third highest GDP among the cities in the country. The public sector represents 60% of the local economy, and 70% of employment is concentrated in the Pilot Plan area. However, 88% of the Federal District's population lives outside the Pilot Plan area, creating problems with public transport and housing that have required adjustments in the model of urban occupation.

50 Years of Brasilia
New Land Use Plan and Strategic Projects

The local government is revising the urban legislation through the Master Plan (Plano Diretor de Ordenamento Territorial – PDOT), which governs the regulation of land use, housing, environmental conservation, and the dynamics of infrastructure and economy. The urban planner Jaime Lerner was commissioned to design projects for urban revitalisation and parks in the Pilot Plan area and surrounding areas, with the aim of integrating them. In this way, the Project Brasilia 50 years will prepare the city for the next decade alongside PDOT.

Interbairros Roads, EPIA and W3 South
Reinforcement of Road System

Following the underground railway, the Interbairros road will connect the most populous areas in Federal District to the Pilot Plan area. The EPIA road is tangent to Pilot Plan area and gives access to other areas of the city, including important commercial sectors. This road is being broadened and will receive a new treatment adequate for the urban context. The W3 South Avenue will have various interventions to revitalize its commerce and to facilitate traffic. The light metro, also known as LVT (light vehicle over trail), will cross the avenue and be extended to other parts of Pilot Plan later, in preparation for the 2014 World Cup in Brazil.

Northwest Sector and Parks
Creating and Revitalizing Urban Areas

A new neighborhood unit, Northwest, will be launched in 2008 for a population of 40,000 people, completing the Pilot Plan area. Next to this sector, the Burle Marx Park of 308 hectares will be created, foreseeing innovations such as a giant mock-up map of Brazil and other cultural spaces. Another public area to be included in the "Project Brasilia 50 Years" is the Enseada Park, next to the University of Brasilia, which will increase local tourism and entertainment on the front of Paranoa Lake.